Warning spoilers ahead for Lost season 6 LA X: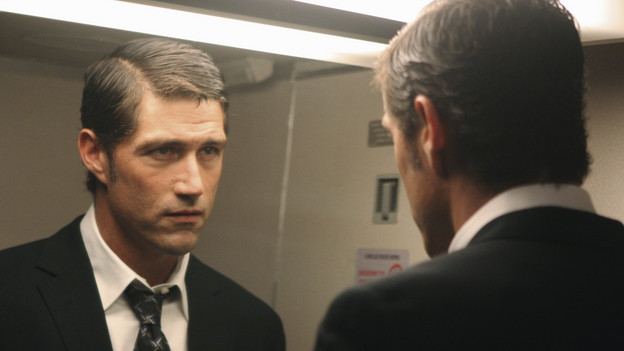 Wow.
What a way to start the new season though I'm not sure where to start this recap except once again to say wow. This was perhaps my favourite season premiere (excluding the pilot of course) because the end of last season left the show with so many different directions that it could go in and I only guessed half of it. And the half I guessed wasn't even completely correct; I figured they would be on the original 815 flight but I hadn't really thought about the slight changes to character and actions that would occur. I must also say that I enjoyed the premiere because I watched with many more friends than normal, we got pizza, had wine and really enjoyed the show. There was much discussion after we had seen it as to what had occurred and I have done my usual post Lost ritual of reading
Doc Jensen
over at EW who as always blow my mind. Over at EW there is also a good interview with
Damon Lindelof and Carlton Cuse
regarding the premiere. I am going to look at these openers in much the same way that I have reviewed the previous seasons and look at the moments that stood out to me and what these might mean.
The name that has been given by the producers for the reality where the plane didn't crash is flash-sideways and I will just refer to the other reality as island present.
First up: Flash-sideways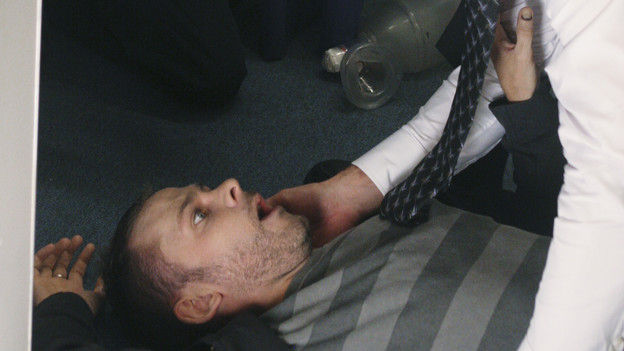 The episode kicks off on flight 815, with a conversation between Jack and Cindy the flight attendant much similar to the one they had in the pilot, though this time round she only gives him one extra bottle of vodka instead of two- I guess he doesn't need the other one for his wound. This is followed by an equally similar conversation between Rose and Jack, though this time it is Jack that is feeling nervous during the turbulence, could it be that he has some recollection of the crash.
Kate is still handcuffed with the air marshal, who in this reality takes a blow to the head from Kate rather than his case when she escapes him in the airport. She ends up hijacking a cab that has a familiar face in it; Claire who we cannot see if she is pregnant in this place. It is relevant that Kate ends up with Claire I think as she is the reason she gave for going back to the island, though this time Kate has the cab driver at gun point, this cannot end well.
Boone is without Shannon having unsuccessfully not got her back from Australia, some asked if this was because they couldn't get Maggie Grace back, the producers deny that this is the reason.
Also missing on the plane were Michael and Walt, why is the question. Did Walt's mother never die in this universe?
Charlie is also on the plane, though this time instead of flushing his drugs down the toilet he swallows them, causing him to almost die and for Jack to save him. This action displeases him, he states that he was suppose to die, is this something he inherently knows? Instead he too gets carted off the plane in handcuffs, so much for the Driveshaft comeback.
Hurley refers to himself as the luckiest guy in the world, no numbers curse for him. Sawyer shows in him when he hears that he is a lottery winner, is a con coming?
Sawyer seems relaxed and happy, not like someone who has just killed an innocent man so it would be safe to assume that he has a different path in this life. He does enjoy some flirting with Kate and even offers her a helping hand when she has escaped the marshal.
Locke still paralysed seems a lot more content than the Locke we saw before in his pre island life. He has accepted his condition and it appears that he was allowed to partake in his walkabout. He converses with both Boone and Jack, both which are poignant considering the events that we have seen between these characters; Boone says he would stick with Locke and Jack explains that nothing is irreversible. The conversation between Locke and Jack occurs in the lost luggage claim, Locke's knives have been misplaced, though more telling is that the airline has misplaced Jacks fathers coffin, could this be the link between the two realities?
Rose and Bernard are very much in love and are the couple that we have seen throughout the seasons, does Rose have cancer in this reality? Her longer hair would suggest otherwise.
Not so happy are Sun and Jin, with Jin being just as douchey to her as he was when we met him in the pilot demanding that she do her top button up; how I don't miss this Jin. They problem at the airport with the large amount of cash in his luggage could suggest that they were going to start a new life in the US, not sure how long he will be detained for though. Also is Sun lying when she says she doesn't speak English?
One person on the plane who wasn't on there before is Desmond, who ends up sitting next to Jack prompting another recollection from Jack, is this because they have met before at the sports stadium? Des seems pretty upbeat, does this mean that he managed to win Widmore's race and win back Penny? Maybe he proposed to her in this life? Eagle eyed viewers have said that if you slow down his scene you can see a wedding ring on his finger, is this further proof that all is happy in this universe for Penny and Des?
The cut on Jack's neck also prompts him to have a look of confusion, is this from the other world? Lost expert recapper Vozzeck69 points out that you only see the cut in the mirror and that maybe the cut can only be seen in the mirror reflecting to Jack what is really there.
Red shirt alert: Froghurt and Arzt.
Missing: Ana Lucia, Mr Eko, Libby (or unseen).
Greg Grunberg alert: reprising his role of doomed Captain Norris we get to hear his voice in this episode so he still ended up flying even though Frank was meant to.
Also in this world we see that the island is underwater including the Dharma barracks and the four toed foot, not looking good for someone like Ben or Richard in this universe.
Island present- on the beach: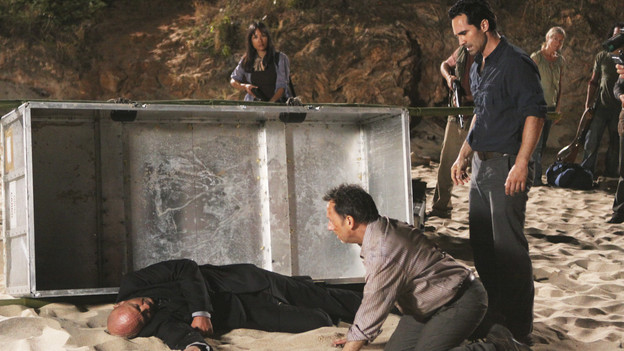 Jacob's body has disappeared, where it has gone to is anyone's guess though I'm thinking that it has to disappear so he can maybe inhabit someone else.
NotLocke is now seems to be the smoke monster. When Bram and his men (Jacobs bodyguards) shoot at him, he disappears and returns as Smokey, killing them all. He apologises to Ben "I'm sorry you had to see me like that." At this reveal Ben was astounded and so really had no idea what the monster actually is. At this point I'm thinking that he is really sorry that he killed Jacob. He is also confused as to why Jacob didn't fight back which to me suggests that this is all part of Jacobs plan.
We also find out that Locke's last thought as Ben killed him was "I don't understand", NotLocke calls Locke pathetic but that his redeeming feature was that he did not want to leave the island. NotLocke reveals that he wants to go home, not that we know where he calls home. This description of Locke being pathetic and what his final thought was makes me sad for this character and I really hope that out of everyone that his resolution is something positive and that he does get the answers he desires.
Richard is noticeably horrified when he realises who NotLocke really is after he says to him that it is nice to see Richard 'without your chains'. This I'm thinking must refer to the Black Rock slave ship that Richard might have come from. NotLocke promptly knocks Richard out with some rather unfair blows to the neck and hoists him over his shoulder. He proclaims that he is very disappointed with everyone, I'm guessing for choosing Jacob over him.
Island present- the hatch and the Temple: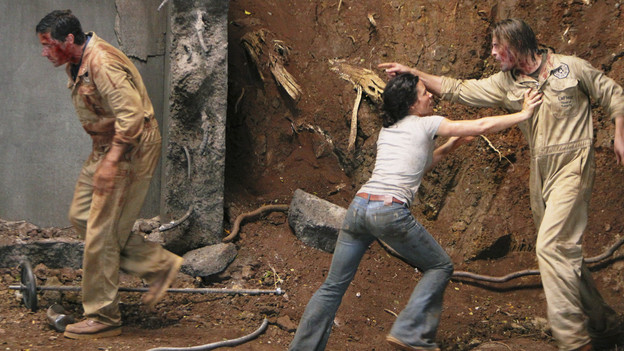 The group who were stuck in 1977 and who were present when Juliet detonated Jughead all wake up in the jungle in the same time period as those who are at the statue, making this 2007.
All is not well with Sawyer blaming Jack for killing Juliet as his plan does not appear to have worked.
This is until a faint cry can be heard, Juliet is buried alive under all the junk from the hatch which looks the way it did after Desmond turned the fail safe key, in this universe it seems that all is as it was for the Losties.
We get to see another heartbreaking farewell between Sawyer and Juliet which I found to be a little unnecessary after the end of last season but served the purpose to suggest that Sawyer and Juliet will meet in another life (when she asks about the coffee) and for Miles to show his dead speaking talents. Juliet communicates to him that 'It worked' meaning the bomb resetting time I would imagine. This message seems wrong to Miles and Sawyer considering where they are.
Dead Jacob appears to Hurley giving him important instructions that he tells him will save Sayid's life who is still bleeding to death after Roger shot him last season.
These instructions take our gang to the Temple, the often previously mentioned place that we have only seen the outer wall and the tunnels for. It is an impressive place and there are rather a lot of Others inhabiting this place including Cindy the flight attendant and Emma and Zach the kids from the tail section. Dogen (Sunshine star Hiroyuki Sanada) appears to be the leader of the Temple folk and seemingly tries to save Sayid by putting him in their big bubbling pool which I would imagine usually has healing powers but lacks them now I suspect because of Jacobs death. Instead it seems that Sayid ends up drowning.
When they inform the Others of Jacobs death the whole place goes in to a kind of emergency procedure, sprinkling black ash every where and setting of warning flares. Whether this means that everyone in the Temple is protected remains to be seen as Bram had protected himself with the ash but old Smokey managed to get to him still. Also can Smokey get under the Temple as this is where the French guy was dragged?
The episodes end in the temple with Sayid waking up, however is this still Sayid? When he says "What happened?" it does not sound like Sayid but he has what seems like a British accent. Speculation has ranged from it being a slip by the actor which I doubt and that he is now inhabited by someone else, someone like Charlie. The most popular theory is Jacob but that wouldn't explain the accent. Not that I think that it is Charlie but there were strong echoes when Jack was trying to resuscitate Sayid with when Jack resuscitated Charlie back in season 1, including the dialogue with Kate.
Overall, I was very pleased with how this season started and I think the two time lines could prove to be great from a story telling perspective. Once again I am going to not watch the episode promos for each week as I like going in to each episode not knowing anything. Also the finale date has been set as Sunday 23rd of May which as it happens is when I will be in New York. This means no big Lost viewing party for me so I will have to make the most of those before going away. I am however looking forward to what will happen between now and then and am enjoying all the post episode chatter.
Photos courtesy of
ABC